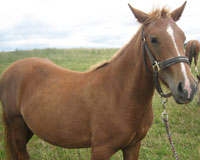 | | | | |
| --- | --- | --- | --- |
| Name: | Ash | Born: | Late 2008 |
| Height: | 13.3 hands | Breed: | New Forest |
| Gender: | Filly | Colour: | Chestnut |
History
Ponies should not be given as presents. Poor Ash ended up living in a shed in someones garden, and being inappropriately fed.
Ash came to us suffering from parasitic worms and was traumatised from being kept isolated and alone. Ash was handed over to the RSPCA by her previous owners as they were no longer able to manage her and was in poor condition when she came to us.
The Epona Trust took her on, and we kept her with Muffin the Hinny to get over her loneliness.
Latest Update
Ash is now full of life and energy, and has joined our other youngsters up on Hatch Hill.
Ash is now doing so well she is coming in with the other horses regularly and is learning some basic manners in the stable and whilst being lead. She will begin her training soon to become a riding pony.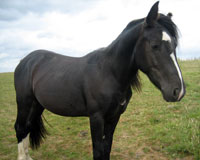 | | | | |
| --- | --- | --- | --- |
| Name: | Bandit | Born: | 2007 |
| Height: | 14 hands | Breed: | Gypsy Cob Type |
| Gender: | Gelding | Colour: | Black |
History
When Bandit was 18 months old he was kept out in the open on a tether chain. Unfortunately he got the chain wrapped around himself and his ear was trapped and very badly damaged. His owner did not treat the injury and when infection set in, the RSPCA became involved and brought Bandit to the Epona Trust.
He was very wild and difficult to handle, and it took some time for the ear to heal. We did lots of work with Bandit to calm him down during the year that he was with us while the RSPCA prosecuted his owner. When the prosecution was finally successful in 2010, Bandit was signed over to the Epona Trust.
Bandit spent a year turned out on the large Hatch Fields to grow up and forget his horrible early experiences. He has now settled down after running with the herd at Hatch, and is a much calmer pony.
Latest Update
Now Bandit is old enough to start his training, he has been brought in to begin learning how to be a riding pony. Leah is sponsoring him and is starting his ridden training.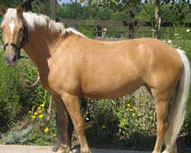 | | | | |
| --- | --- | --- | --- |
| Name: | Blondie | Born: | 1999 |
| Height: | 14 hands | Breed: | Welsh Section C |
| Gender: | Mare | Colour: | Palomino |
History
Blondie was abandoned by her owner when she felt that she do not have sufficient skills to ride her. Blondie was not tolerant of her owner's rough 'kick and pull' style and although at first she was as compliant as she could be, the rough treatment made her both sore and cross.
Eventually she took to dumping her owner onto the floor and this lead to some more rough treatment.
Latest Update
Fortunately for Blondie we were able to give her a home, but we had to undo all of the poor treatment that had happened to her, to get her confidence back. Blondie is now very settled and especially enjoys jumping. She is a very popular pony and is always very sort after for the group lessons!
Blondie enjoys hacks out in the countryside and is very well behaved in a group.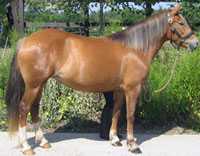 | | | | |
| --- | --- | --- | --- |
| Name: | Felicity | Born: | 2000 |
| Height: | 14 hands | Breed: | New Forest x Cob |
| Gender: | Mare | Colour: | Pale Chestnut |
History
Felicity was a RSPCA case. She had been turned out into a large field when she was a young foal and a headcollar had been left on her. When she was finally caught a year later, her head had grown and the headcollar was embedded in her skull. This caused a large amount of damage to all the soft tissue on her face. The headcollar had to be surgically removed and the grooves and scars are still visible.
Latest Update
Having so many months in terrible pain, Felicity was very unbalanced in her movement. When eventually her wounds were healed and she was old enough to start being trained, she had great difficultly adjusting to a rider's weight. We had to be very slow and patient with her so that she learned gradually what she needed to do. We found Parelli work particularly good to get her understanding how she had to focus on her trainer.
| | | | |
| --- | --- | --- | --- |
| Name: | Murray | Born: | 1990 |
| Height: | 14.2 hands | Breed: | New Forest |
| Gender: | Gelding | Colour: | Bay |
History
Murray is an old fashioned forrester – he has the big head and strong jaws that are necessary for ponies who live on gorse during the winter months in the New Forest.
Murray is not particularly quick witted so when he was first asked to pick his feet up for them to be trimmed by the Farrier, he panicked thinking that he would fall over. The Farrier got angry with him and hit and kicked him, until he was terrified.
Fortunatly someone saw this happen and took Murray away and brought him to us. But the damage had been done and Murray was very distrustful of people. He hated being in a stable because he thought that he might be beaten again.
Latest Update
'Murray-too-good-to-hurry' became his nickname as it took a whole year to train him to carry a rider and to listen to what he was told to do.
He is now a very valued member of our teaching team and he specialises in working with Autistic children and small adults, with whom he seems to have an understanding.
Murray is very good at jumping especially when he is turned out, and has been known to pop over a five bar gate if he sees good grass in the next field!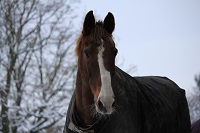 | | | | |
| --- | --- | --- | --- |
| Name: | Nathan | Born: | 1997 |
| Height: | 16.2 hands | Breed: | Gelderlander |
| Gender: | Gelding | Colour: | Chestnut |
History
Gelderlander horses are driving horses. They have a high stepping action which looks wonderful when pulling carriages.
Unfortunately Nathan did not enjoy being driven. He hated being in a harness and being very close to another horse. His old owners decided to just use him for riding, but unfortunately they needed to move away from the area and couldn't take him with them. Nathan's old owners looked around very carefully for someone to look after him, and wanted someone to care for him for the rest of his life. One of the Trust Committee members spotted Nathan, and so he came to the Epona Trust in February 2013.
Latest Update
Nathan has now settled in well and has a lovely new saddle. He has just started working on lessons and is coming on in leaps and bounds.