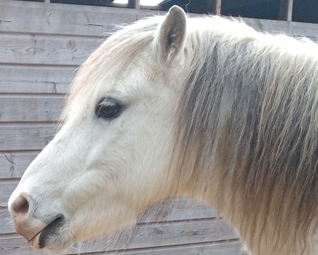 | | | | |
| --- | --- | --- | --- |
| Name: | Peanut | Born: | 2010 |
| Height: | 11 hands | Breed: | Welsh Pony |
| Gender: | Gelding | Colour: | Grey |
History
Peanut was an RSPCA rescue case. He was overweight with laminitis and overgrown feet. He was feral and nervous in the beginning and we have had to train him to trust people and be calm when in a stable. Peanut was put on a diet and had his feet trimmed. He was taught to carry a rider and is now a valued member of the school.
Latest Update
Peanut is very clever and mischievous – he is a bit of an escape artist and will make eyes at unsuspecting people to get more food. He also likes to plot raiding the feed room with his partner in crime Thomas.
Peanut has become a very handsome unicorn on more than one occasion at a pony party.
Peanut is half sponsored by the Duncan family with a half sponsorship available.